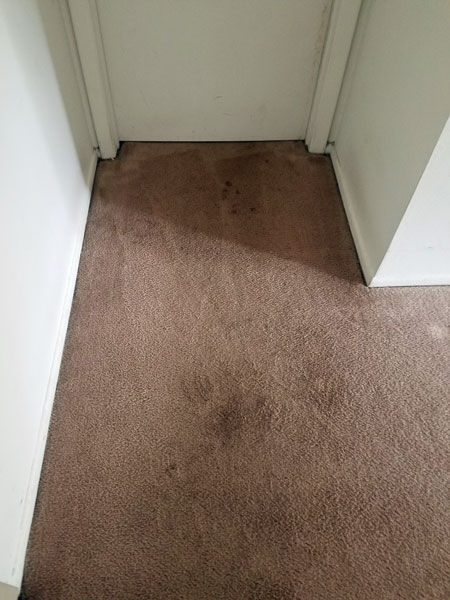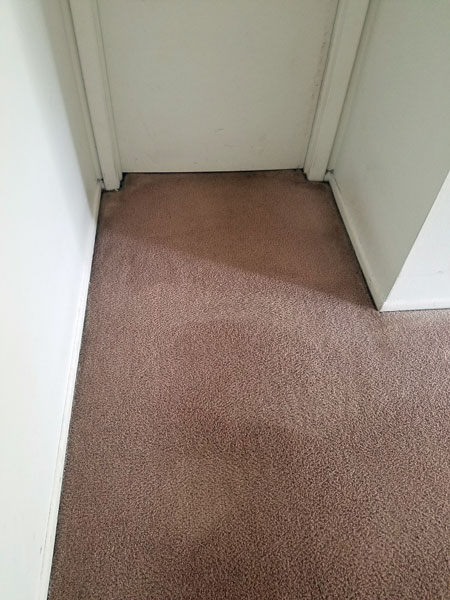 These pictures are of a pet stained carpet in Tampa FL before and after a professional cleaning by Chem-Dry of Tampa.The person renting the apartment has two dogs that consistently wreak havoc with her carpet. She often rents a rug doctor and cleans it herself. But the pet stains keep coming back. This is a common problem for pet owners in Tampa FL. Using a rented carpet cleaning machine is a good way to get rid of minor soil build up but without a proper pet stain remover it's difficult to get rid of pet stains for good.
If you have pet urine in the carpet a professional carpet cleaning will remove some of the urine but you really need a professional pet stain remover to remove to get it out. There are plenty to choose from but many are enzyme based products designed to eat away at the urine salt deposits in the carpet. To do that you need to apply a lot of the solution directly to the urine stains in both the carpet and the pad. Getting the $20.00 pet stain remover spray at the local pet store is not going to do it. There's just not enough solution in the bottle to properly saturate the carpet and the padding to effectively eat away the urine salts.
At Chem-Dry of Tampa we use a an oxygen based pet stain remover that is applied to the carpet and padding to destroy the odor molecules and get rid of the urine stain once and for all. If we apply our pet urine remover to your pet stains and they come back we will come out and treat them again for free. We guarantee your satisfaction.
For pet stain removal in Tampa FL call Chem-Dry of Tampa.