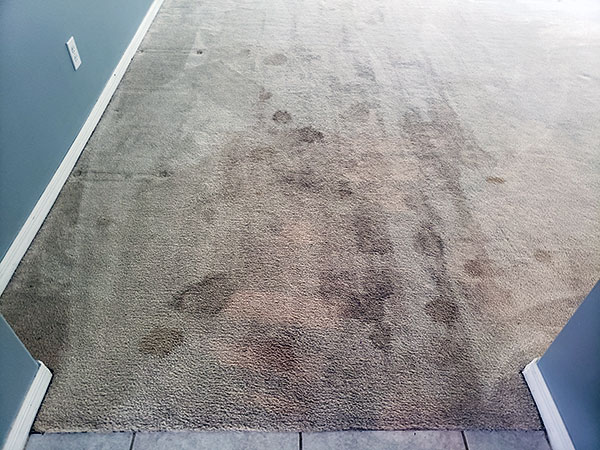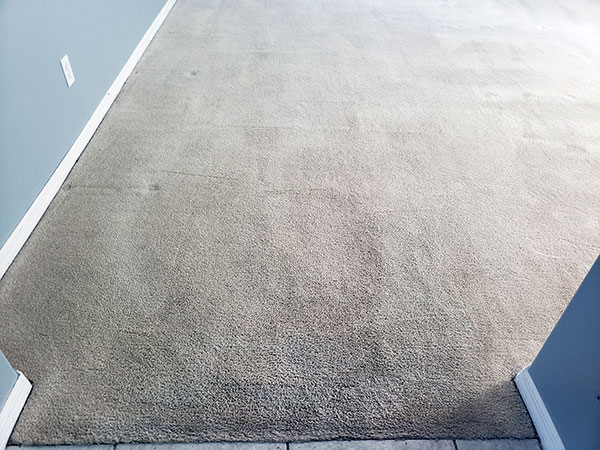 Pet stain removal is never easy. When renters move out and a new one is moving in it can be challenge to get everything ship shape again. The landlord was not sure what kind of pet was being boarded in the house, but she had never seen carpet look this bad before. At Chem-Dry of Tampa FL we call this damaged carpet. Pet urine is so difficult to remove that carpet mills void the carpet warranty if pet urine is deposited in it.
The dark spots in the carpet, pictured above, are from pet urine deposits and a carpet spot cleaning solution. Most off the shelf pet stain removers rely on enzymes and a lot of soap to get the urine out of carpet. The combination of left over urine and soap in the carpet leave dark spots that gradually show up over weeks of traffic. Urine crystals has the consistency of wet sand. The crystals hold moisture and off gas ammonia and other odors that are caused by bacteria feeding on the urine. I know it sounds really gross.
At Chem-Dry of Tampa FL we locate the urine deposits and treat each spot individually with our Pet Urine Removal Treatment called PURT. It destroys the odor molecules that off gassed by the urine crystals. Then we sanitize the carpet with a green certified sanitizer that destroys 99% of the bacteria feeding on the urine. Finally, using Chem-Dry's hot carbonated extraction carpet cleaning system we the treatments and the broken down urine crystals leave the carpet healthy and clean.