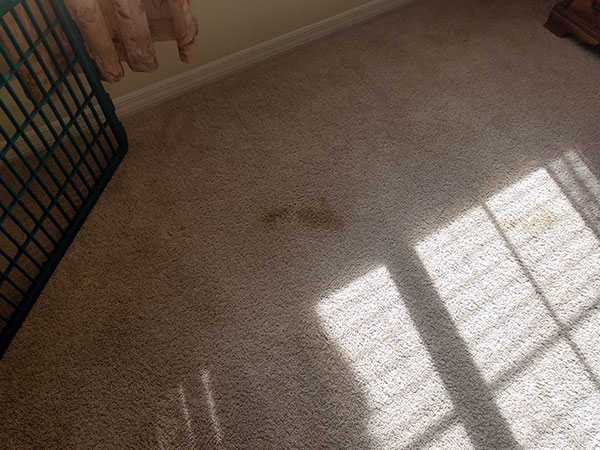 Pet odors can come from various sources. Whether it's in the carpet, or upholstery it can be eliminated from your home. Some pet odors are associated with the oils on their fur or skin. Some odors come from substances pets bring into the home, like a dog rolling in something outside then rolling on the carpet afterward. Then there are the pet odors associated with pet accidents in the home. This last one is the most common problem that I deal with in Land O Lakes FL.
In the pictures above you can see the pet stain in the carpet caused by a sick dog that was suffering from a stomach bug that caused uncontrollable diarrhea. Fortunately our pet odor removal treatment was able to remove the stain and the offending odor, leaving the carpet smelling fresh and clean. Whenever pet's deposit any biological material in carpet and upholstery we let the customer know that cleaning the stain is not enough. We heavily recommend sanitizing the area as well. In some extreme cases we insist on sanitizing the carpet or upholstery to get rid of any associated micro-organisms such as bacteria or other germs.
In some cases we recommend a pet odor removal treatment that is designed for tougher odors like pet urine or musky dog smells. Pet odor removal treatments are very effective at breaking up odor molecules that are not produced by micro organisms and cannot be effectively be treated by sanitizing. If you have pet odors in your home we have a solution that leave your home smelling fresh and clean.
For pet odor removal in Land O Lakes FL call Chem-Dry of Tampa.