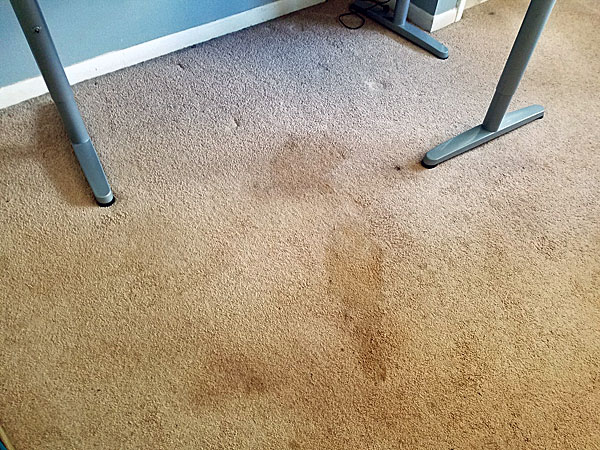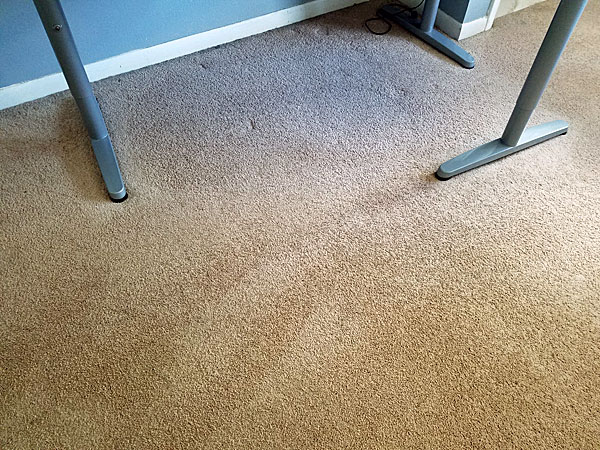 I took these picture during a recent carpet cleaning in Land O' Lakes FL. The home owner has a few different pets in the home, both cats and dogs. She was pretty certain these stain were from one of her dogs. Judging by the size of her German Sheppard I would say she was right. As a carpet cleaner in land O' Lakes FL I run into a lot of these semi-mystery spots. It's not just the urine that leaves an unsightly stain in the carpet. It's the pet carpet cleaner that was used to get rid of the urine afterward that left the these dark spots in the carpet.
The good news is that spots like these can be removed from the carpet without worrying if they will come back.They're gone for good. At Chem-Dry of Tampa we use a powerful cleaner that is free of toxins and soaps. It's tough enough to remove these types of stains without harsh chemicals or dirt attracting residues. A couple of passes with our rotating extractor and the spots were gone for good.
Some pet based stains can be tougher. The amount of urine or the number of times the pet has gone in the same area can greatly impede pet stain removal. The good news is that we have a great pet urine removal treatment (P.U.R.T) that can take on even the toughest pet stains. Let us try and get your carpet back into the healthy zone.
If you're looking for a pet carpet cleaner in Land O' Lake FL call Chem-Dry of Tampa.