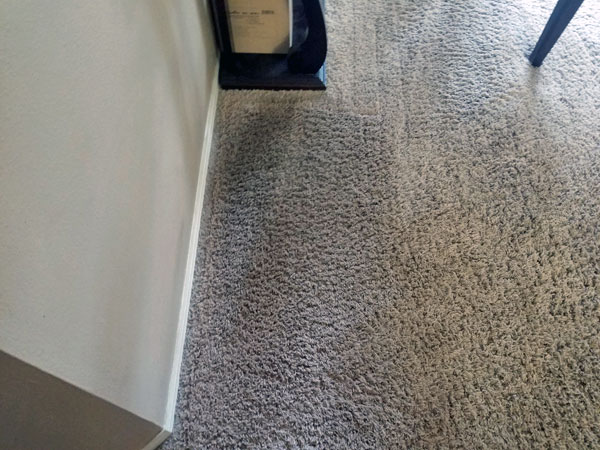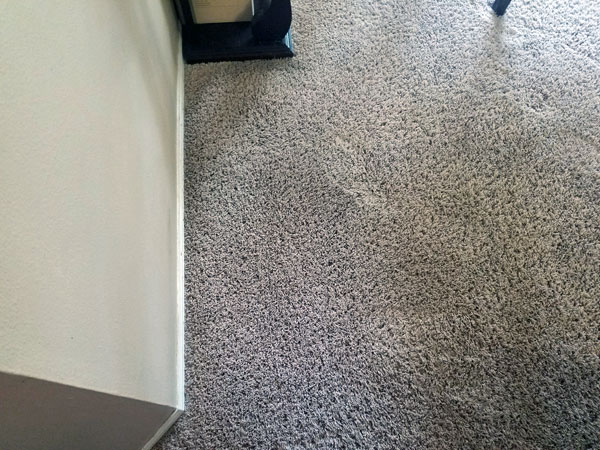 Some before and after photos show how powerful our low moisture carpet cleaning system is, and some show how a severely damage carpet can be improved by a low moisture carpet cleaning service. These photos were taken at a residence in Tampa FL that had severely soiled carpet. Their dog had taken to laying in this spot next to the wall while the family was out. Over time soil and oils from his fur matted the carpet and started to do real damage.
The good news is that Chem-Dry of Tampa's low moisture carpet cleaning service is tough enough to take on severely soiled carpet while drying in just a few hours. Chem-Dry's hot carbonated extraction cleaning process is not a completely dry process. Our carpet cleaning system is actually steam cleaning but with 1/5 the moisture of other steam cleaners. Other carpet cleaners can use 10 gallons of cleaning solution to clean one room of carpet. Chem-Dry of Tampa FL only use 1-2 gallons of cleaning solution per room of carpet.
The best way to determine how much moisture a carpet cleaner is going to use is to ask them if they need to hook up to your hose to clean the carpet. If a carpet cleaner needs to hook up a hose you can be sure that they are about to soak your carpet and put it at risk for over wetting and lengthy dry times. Don't use a carpet cleaner that is going to soak your carpet. Use a low moisture carpet cleaning service like Chem-Dry of Tampa.
For low moisture carpet cleaning in Tampa FL call Chem-Dry of Tampa.