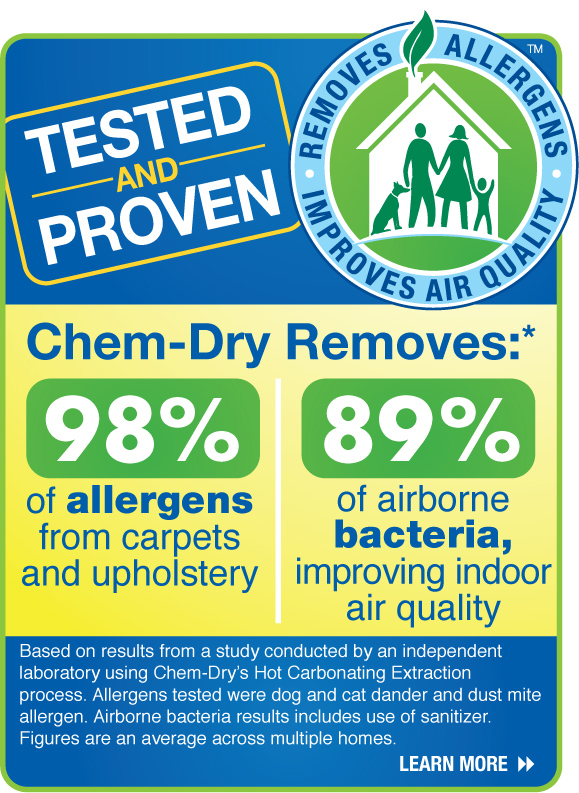 If you're considering getting your carpets cleaned but you concerned about the negative aspects associated with carpet cleaning consider calling Chem-Dry of Tampa FL. They offer a healthy carpet cleaning service that cleans your carpet with a green certified cleaning solution that contains no soaps, surfactants, or toxins. They even offer a cleaning package called The Healthy Home cleaning service.
Using a hot carbonated cleaning solution they leave out all the bad stuff and use hot sparkling water to remove the dirt and grime from your carpet. The power of millions of tiny bubbles lifts the soils from your carpet for easy extraction. Because their carbonated solution is so powerful they only use a small amount of moisture compared to other steam cleaners. Less cleaning solution at low pressure means your carpet will dry fast. They don't get the carpet pad wet.
Chem-Dry of Tampa's cleaning solution is a green certified cleaning solution that has no soaps or toxins in it. No soaps means no dirt attracting residues are left behind to recollect soil. Your carpets will stay cleaner longer.
Healthy carpet cleaning is not a myth. You can have your carpet cleaned without worrying about it being over soaked and taking days to dry while providing a foot hold to mold and mildew. Your carpet can be clean and dry in just a few hours without concern for your families health. If you or your family suffer from allergies. Chem-Dry's healthy carpet cleaning service removes up to 98% of common household allergens.
For healthy carpet cleaning in Tampa FL call Chem-Dry of Tampa.