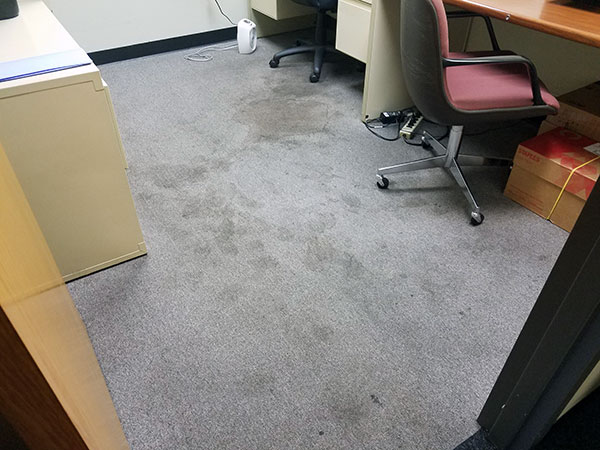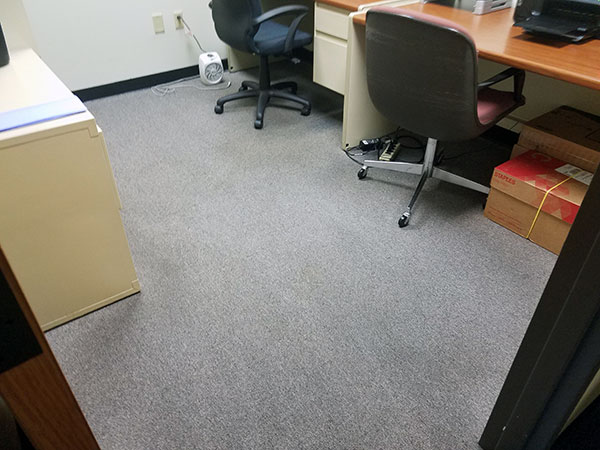 Today we cleaned an office building in Tampa FL. These before and after pictures give you a good idea of how bad the carpet was in some offices and how good of a commercial carpet cleaning we were able to do. The cleaning system we used was Chem-Dry's commercial pro encapsulation cleaning. It works with very little moisture and does an excellent job of removing tough spots that are common to an office space. Coffee spots and greasy food spills can be removed, never to be seen again.
Chem-Dry's encapsulation cleaning system was designed for tough commercial carpet cleaning jobs. Its a heavy load cleaning that uses very little moisture and dries in about 45 minutes. In other words it cleans really well without soaking the carpet. If you have glue down carpet or tiles in your office space you don't want to clean with a high pressure steam cleaner. High pressure can damage adhesives and carpet backing. Over wetting can also be a problem when cleaning commercial carpet. It can breakdown adhesives and cause soil to wick back to the surface as the carpet dries.
Have you ever left work for the weekend and when you returned on Monday the carpet in your office is still damp from a carpet cleaning that was done over the weekend? I know I've been in that position where The office carpet was damp and the work area was humid, not to mention the smell of soaps and other chemicals that were used to clean the carpet.
These problems don't exists with Chem-Dry of Tampa FL's commercial carpet cleaning service. You can get an excellent quick drying carpet cleaning without putting your glue down carpet at risk.
For Commercial carpet cleaning in Tampa FL call Chem-Dry of Tampa.