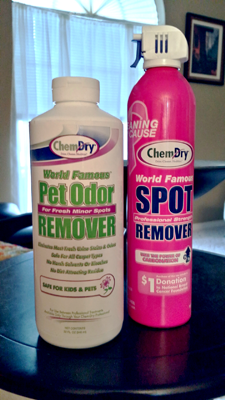 If your looking for a good solution to fight minor carpet spots and stains between professional cleanings then Chem-Dry of Tampa FL has the answer for you. Our World Famous line of carpet stain removers handles the toughest spills and carpet disasters. I have been using the Chem-Dry carpet cleaning products for years and and they are the most effective carpet stain removers on the market.
Not only do they remove tough carpet spots but they don't leave dirt attracting residues behind. No more phantom spots that come back after you've cleaned with it. No sticky residues are left on the carpet to attract dirt to the original spot.
Most of Chem-Dry's consumer products are green certified and safe for regular use. Thy clean your carpet, tile, or laminated floors without leaving dirt attracting residues behind. They are tough on dirt and gentle on your flooring.
For a great carpet stain remover in Tampa FL call Chem-Dry of Tampa.