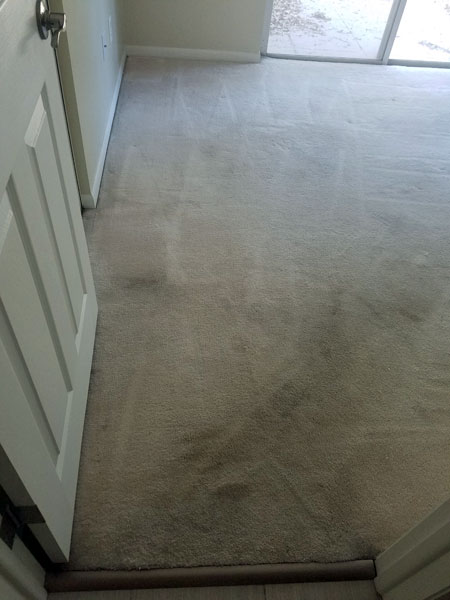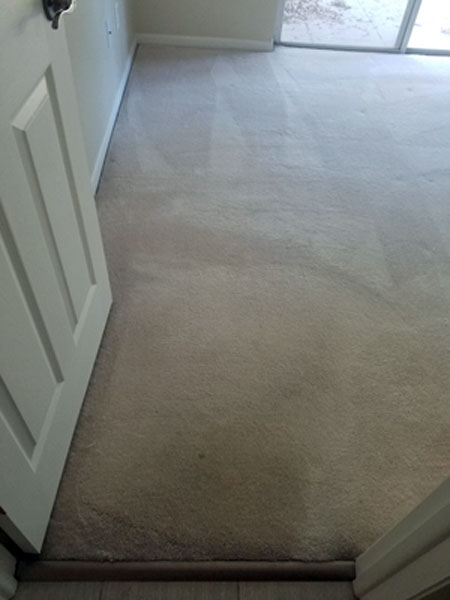 These before and after photos where taken at a residence in Tampa FL. The home owners carpet had heavy stains in the entry way one of their bedrooms. The carpet was a light color and was easily stained over time. Chem-Dry of Tampa FL offers carpet stain removal services for heavily soiled carpet. We use Chem-Dry's patented Hot carbonated cleaning process to remove deeply embedded soil from carpet.
The before picture on the left shows heavy soil and traffic lane grey as soon as you enter the room. There is even some staining on the left hand side by the door. A heavy pre-treatment was necessary to loosen and emulsify the soil for extraction. Then the carpet was scrubbed with a carpet rake to make sure the pre-treatment solution was worked to the bottom of the carpet. After some dwell time a carpet stain removal was applied to make sure the traffic lane grey would release and come clean. Then the carpet was extracted with Chem-Dry's hot carbonated solution, called the natural.
The after picture shows how the carpet stains were removed bringing new life to the room entry. The final touch is a post grooming of the carpet to make sure the carpet is laying in the right direction and looks its best.
If you need carpet stain removal in Tampa FL call Chem-Dry of Tampa.