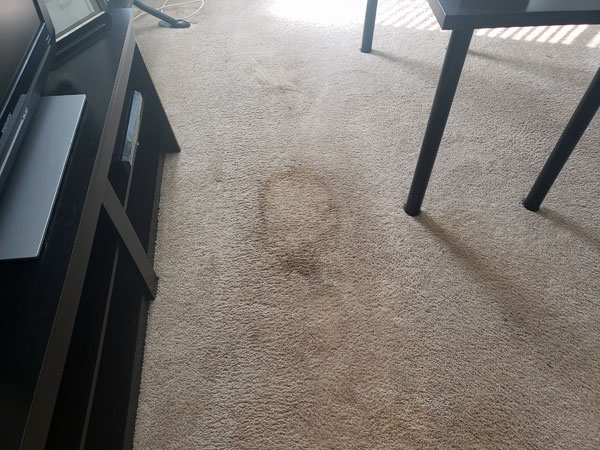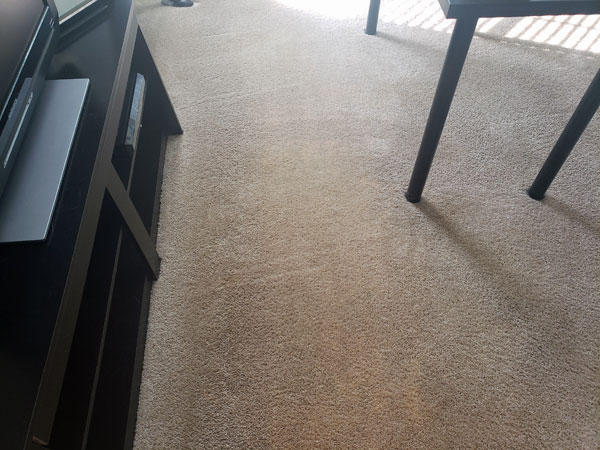 A new customer of ours who lives in Wesley Chapel FL called about a dog vomit stain they couldn't remove on her 10-year-old carpet. She tried several consumer-grade carpet cleaners and had already damaged her carpet by removing some color in the walkway. She was very concerned about the large spot in the middle of her home office, as seen in the before picture. I told her I wasn't 100 percent sure we could remove the vomit spot but I assured her that it would definitely look better. We talked about the color damage and that it could be color-matched and died so you couldn't tell it was bleached. She decided that she could live with the color damaged and she just wanted it cleaned.
After discussing her options she decided to add Chem-Dry's patented stain fighter to help protect her carpet between cleanings. Since she hadn't had her carpets cleaned in 10 years it was best to have the stain resistance refreshed to maintain her carpet for a longer than normal period of time.
We discussed her carpet and it's condition and decided on a cleaning package the would benefit her the most, then we started the carpet cleaning process. When it was all done she was shocked by the results. We were able to remove the vomit and fortify her carpet to keep in its best condition until the next carpet cleaning.
Our goal is always to always serve the customer the best we can to make sure they are 100% satisfied.